by Resource Associates @ grantwriters.net
Grant Questions? Let's talk. 505-326-4245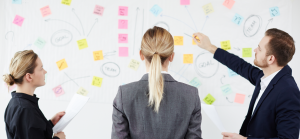 Knowing where your organization is going and how to reach your grant goals.
Sometimes the hardest part of achieving a goal is just getting started. This is often the case when deciding to pursue grant funding. Going after grants can be a daunting task. Grant guidelines are often long, confusing documents and program planning takes time. Partnerships are often new (if they exist), staffing may be thin, and the exact needs of your particular community may not be crystal clear.
Don't let this hold you back. It only takes one grant to change your entire organization's future and kick-start your goals of addressing the needs in your community. There are several steps you can take to advance your organization's future and move forward in the grant funding process.
Step #1: Do an analysis of your organization.
Analyzing the needs of your community and how those needs match up with the mission of your organization will allow you to know where your organization is right now, so you can plan for its future. If your organization is a homeless shelter, for example, then you must become familiar with all the contributing factors related to homelessness in your target area. Some things you may want to ask yourself include; Where are homeless people located in my community? Why are they homeless? How can we help them? What barriers do they face to getting a home or job? What resources do they need related to healthcare, housing, and employment solutions? Once you have taken this inventory you will be one step closer to going after grant funding and making your goals a reality.
Step #2: Devise is your program plan.
You must answer the questions: How are you going to address the needs you identified? What activities need to occur? What resources are necessary to implement these activities? Remember, the answer isn't, "We need money!" It must be more detailed. What would you do with the money? How would you spend it? Once you have these answers, then identify the steps to be taken.
Step #3: Make sure your organization has the resources, staffing, and capacity for implementation.
After you have identified the community needs and the intricacies of program planning, you must then make sure your organization has what it needs to implement the project. If you do not have these resources, take your planning one step further and figure out how to get them. Grant funds often provide you with the needed resources, but you will have to show some sort of capacity to get a grant that funds your project. If your organization doesn't have the resources readily available, consider partnering with another organization in your community and leveraging its resources. Whether you are using your own resources or a partnering organization's resources, make sure it is very clear to the funder that you have the capacity to implement the project and that your organization is the best organization to do so.
Step #4: Start building a preliminary budget for your project.
If there are people you want to employ for the project and they are not currently hired, begin recruiting. Then you can include resumes in your grant application. Also, start thinking about how much time each staff member will need to commit to the project. You will likely need to include supplies, equipment, and contractual/consultant lines in your budget. Start collecting bids now for inclusion in your grant application.
Step #5: Solidify partnerships.
Partnerships are important when it comes to a grant-funded project. Make sure you contact partners and request their support for your proposed project. If they are a partner able to provide support, then include a letter of support from the individual or partnering agency. If they are a partner able to contribute resources to your project, then you will want to secure a letter of commitment or memorandum of understanding. Both items describe each partner's history, their working relationship, and outline the expectations of each party. Make sure to make these agreements as specific as possible.
Doing an analysis of your organization to prepare for a grant writing venture will greatly improve your chances of success. It will allow you to have a smoother grant writing process because you will have as much information as possible when you are developing the application. Doing as much early preparation as you can will get you started in the world of grants. Getting started and sticking with it will assure your success. Keep meeting those needs, until they no longer exist. If you need assistance with grant management, research, evaluation, or advice specific to your organization, reach out to our experienced grant team today.